Pop Up Les Ephémères
December 28 2019 – Kristina ZOUEIN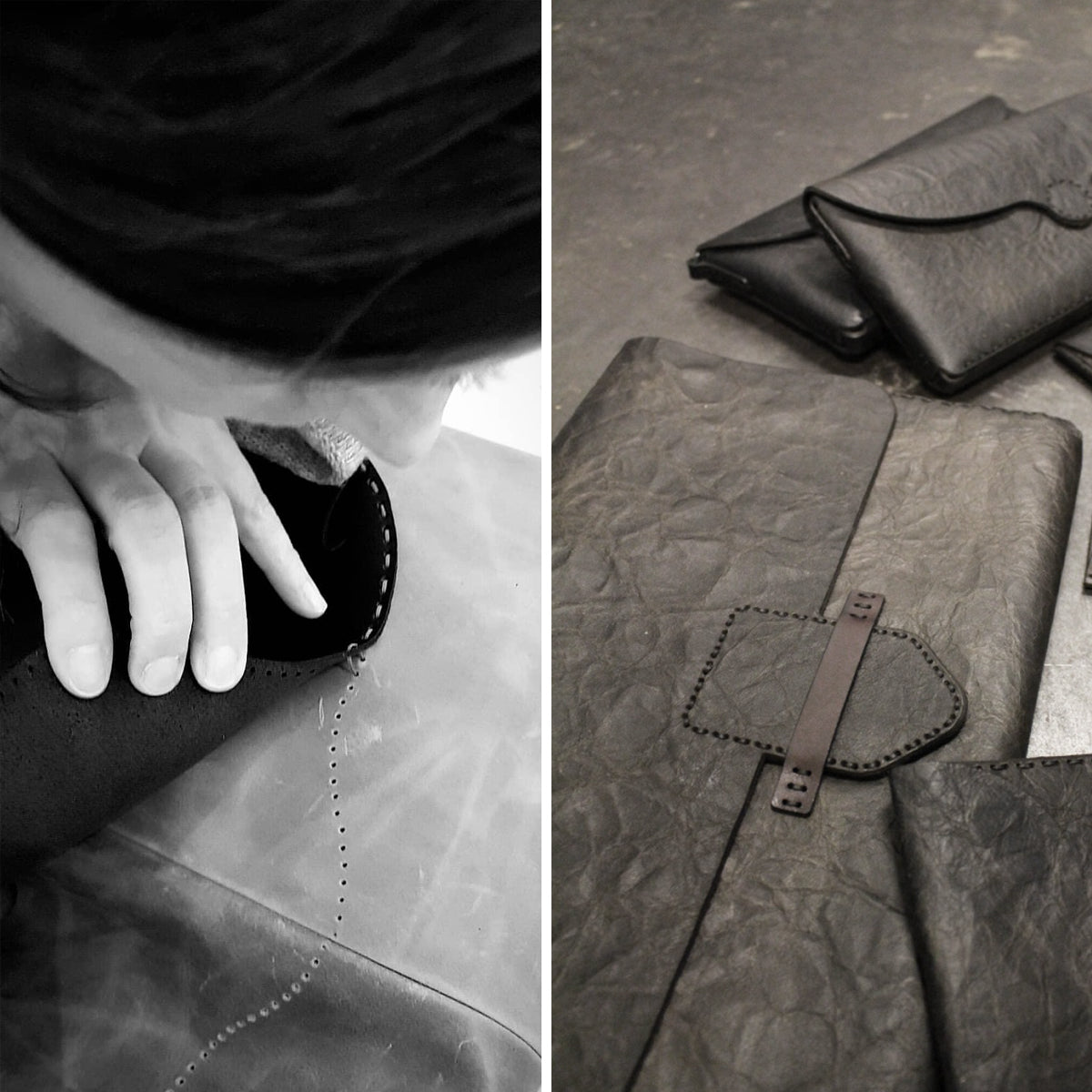 KINAMANIA X Les Ephémères Pop Up
For the holiday season, we popped up with Les Ephémères in a lovely creative space in the trendy bohemian neighbourhood of the Marolles in Brussels, where we introduced our very first Parchment leather goods collection "It's a beautiful day" and also, lead our very first leather maker workshop. It was quite an exciting time for the brand.
Parchment leather goods collection - "It's a beautiful day"
This collection is special because it is hand crafted out of parchment, a material used to create writing supports out of animal skin in ancient times.
While both parchment and leather come from animal skins, they differ in the way they are produced. Leather is tanned, which involves a chemical process that permanently alters the protein structure of the skin, whereas parchment only goes through physical alterations such as scrapping, oiling, and stretching. The maker we work with has revived parchment processes and has expanded its use to many contemporary applications. The result is an eco-friendlier material that is smooth on the touch, that we like to call "parchment-leather".
We embrace parchment's soft feel and visible graining as it provides texture and character to each of our designs. It was quit a success during the pop up!
The collection will be available online soon! We sure hope you will enjoy these pieces as much as we did making them.
Leather Maker workshop – Create your own leather tote bag!
Kicking off a series of workshops planned for 2020, this first edition of leather workshops was quite a head turner in the store! Our first participants created their own tote by choosing their own combination of vegetable and Italian leathers, the color of the threads used and even the type of embossing they want to do, all that while getting a hands-on 101 course on the various leathers and the tanning processes. Result? They all walked out with their soft totes on their shoulders. 
It was a wonderful afternoon spent with a fun and motivated group of people! The second edition of the workshop will be on February 8 and you can already register. We will also be publishing a detailed calendar in the upcoming weeks with brand new designs for the workshops (bags, belts, accessories etc.). Stay tuned!
For more pictures of the workshop - follow the link to our insta page, and check out our saved stories.