Collaboration with HELMo Mode Belgian fashion school
January 25 2022 – Kristina ZOUEIN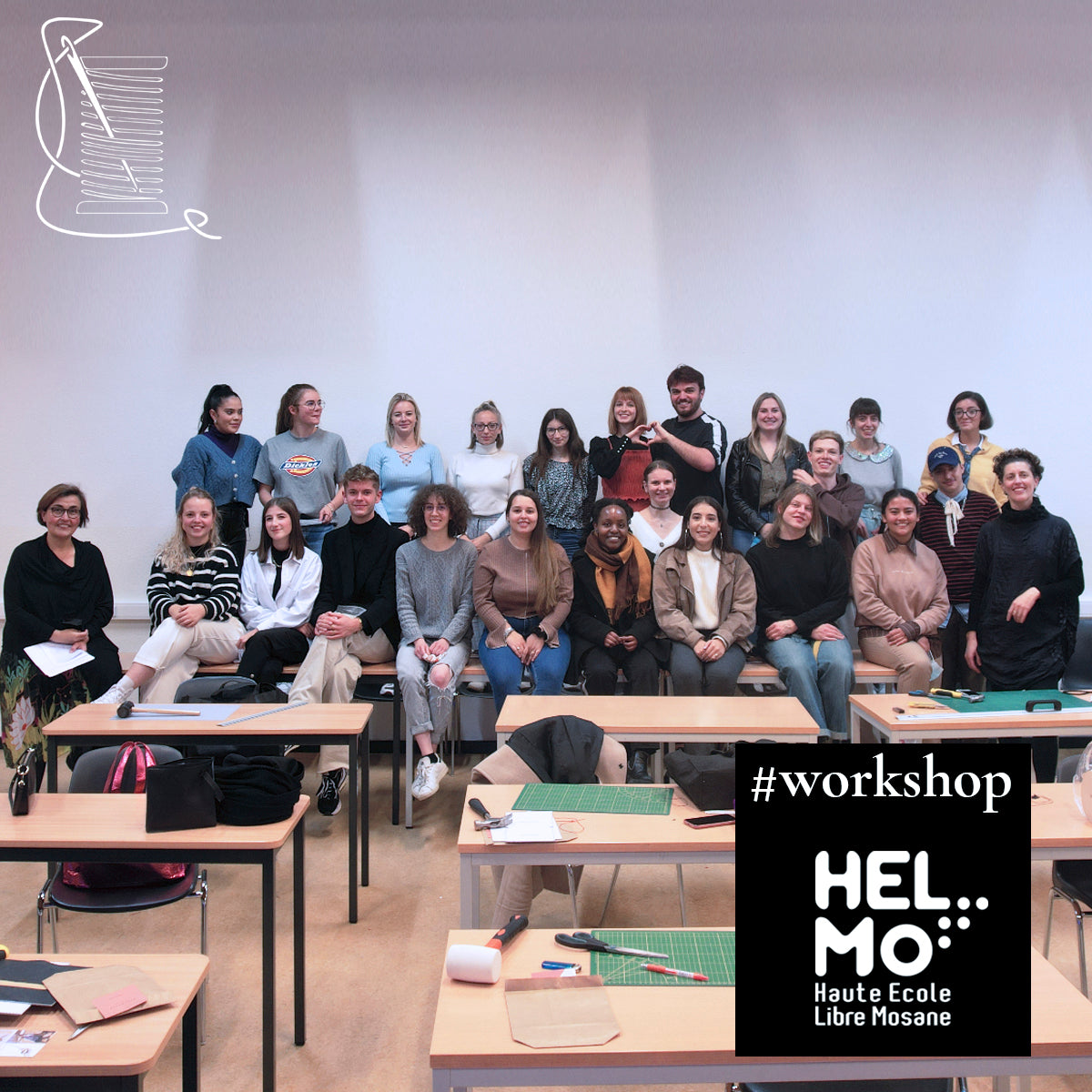 I was approached by Belgian fashion school HELMo Mode to give a leather-craft workshop to their 2nd year students. One of HELMo Mode 's main objectives is to reinforce the value and expertise of craftsmanship in fashion.
>> Check out the video of the workshop! 
I initially wrote a detailed text in French about the workshop, which is why you ll find the text below is more detailed. 
----
[FR] Kinamania étant dans le secteur de luxe du cuir, j'ai collaboré avec Madame @karahisaliferide – professeure de technologie des matières dans le secteur textile innovation d'@helmo.mode.liege – pour donner un workshop aux étudiants du bloc 2 afin d'intégrer l'artisanat de luxe dans leur apprentissage. Les objectifs de ce workshop étaient d'amener aux étudiants différentes techniques de l'artisanat de luxe d'une part, et d'autre part d'éveiller leur curiosité afin de déclencher chez eux l'envie de travailler d'autres matières pour leurs différents projets universitaires et futurs.
 
Je tiens à signaler que j'ai aussi gagné dans cet échange: la technique de « poche incrustée » du métier de l'habillement que j'ai interprété à-la-signature-kinamania sera intégrée dans un modèle de babouche maison Kinamania ! :) Je vous inviterais au lancement de ce produit quand il sera prêt à être commercialisé.
 
Un grand merci à Feride, à Madame Braham Laetitia, directrice de la HELMo, et aux étudiants pour leur enthousiasme ! Merci aussi à @togobanstudio d'avoir filmé le workshop avec un drone – ce qui nous a permis de magnifiques détails et de belles perspectives.
>> Regardez la video du workshop! 
----